Are you looking for ways to simplify your intercompany process, reduce errors and save countless hours of manual entries and reconciliation?
Search no more. With Nolan Business Solutions' InterCompany Postings (ICP), you'll never again have to worry that an offsetting batch didn't post through or got inadvertently deleted. With Nolan's ICP, intercompany transactions are automatically carried through where needed and superior drill-down capability provides complete audit trail on those types of transactions.
With the Trigger Method, very large GL distributions can be entered and posted from any GP module which automatically trigger and post related intercompany transactions to one or multiple different GP company databases. As an example, the Trigger Method is very effective in situations where payroll is generated and paid out of a parent company with the need to distribute payroll expenses to subsidiary companies. With Nolan's ICP, trigger relationships are defined on the payroll accounts allowing immediate posting and visibility of the payroll expenses in all related companies. Trigger account relationships can be defined for any GL accounts.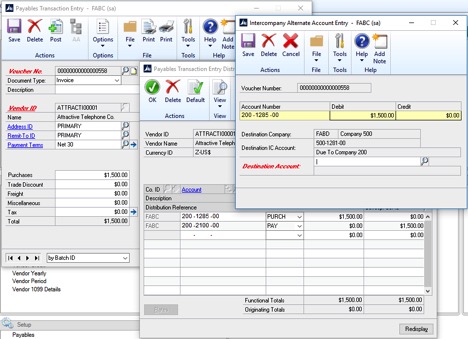 The Alternate Method offers flexibility at the time of data entry by allowing the user to specify the desired destination account. This method is effective for situations where one-time, non-recurring expenses are paid out of a parent company but requires distribution to its subsidiaries.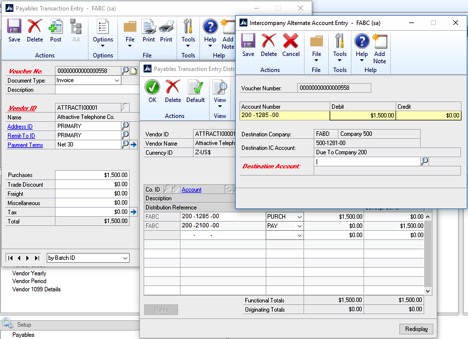 Not only can Nolan's ICP enable posting between different company databases, it can also enable INTRAcompany postings within the same company database. Using one of the GL segment as a company identifier, INTRAcompany entries can be processed, automatically keeping the associated Due To/From GL accounts in balance.
Nolan's ICP can also be leveraged to automate Bank Transfers between Chequebook IDs defined in multiple company databases. Cash and money transfer between companies is reduced to one single step and the risk of unbalanced bank reconciliations is eliminated.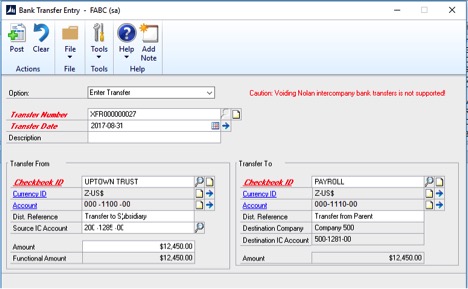 With its multi-currency, multi-company and multi-account type capabilities, Nolan's ICP proves to be a very effective tool for large organizations that want to create intercompany transactions in one single step while simultaneously updating multiple company databases.
By Carole D'Arcy, Senior Consultant with Nolan Business Solutions, an International Microsoft Dynamics GP ISV and NetSuite Provider.
Share This: